Complete Story

10/11/2022
OCCO Meeting with Lori Criss, Director of the Department of Mental Health & Addiction Services
Join the OCCO for our next meeting on Wednesday, November 2nd at 10am at the County Commissioner's Association of Ohio Office in Columbus. Our speaker will be Lori Criss, Director of the Department of Mental Health & Addiction Services.
Director Criss will speak on:
Mental Health issues which impact County Offices and employees and the role the Department of Mental Health & Addiction takes for residents of Ohio.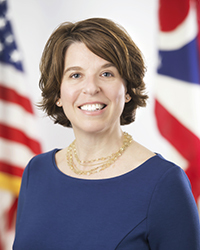 A native of eastern Ohio, Lori Criss has been engaged in the behavioral health field since 1992. Her experience includes working for the Ohio Commission on Minority Health and Amethyst, Inc. Prior to coming to OhioMHAS, Lori served as the Chief Executive Officer of the Ohio Council of Behavioral Health & Family Services Providers.
Ms. Criss holds bachelor's and master's degrees in social work from The Ohio State University. She graduated from SAMHSA's 2010-2011 Women's Addiction Services Leadership Institute, a year-long nationally-selective, intensive program designed to build leaders for the nation's behavioral health field. Lori has most recently served on the Advisory Board to Ohio's Criminal Sentencing Commission, the National Council for Behavioral Health's Addiction Policy Committee, and Ohio's Housing and Homeless Collaborative. She is a former board member for the National Alliance for Recovery Residences and served as the Principal Advisor for Ohio Recovery Housing.
---