Complete Story

05/27/2022
OCCO Meeting with OPERS Information
Allen Foster (Director of Benefits) and Gordon Gatien (Director of External Relations) from OPERS attended the May meeting of OCCO in person at the CCAO office in Columbus. Both shared information regarding OPERS as an entity relating to things such as financial forecasts, where contributions are received in, workforce trends, and changes in policy by the OPERS Board.
A long discussion occurred on OPERS retire and rehire policies in addition to concerns which took place in several counties surrounding the hiring of retired OPERS employees as independent contractors. OPERS sent a correspondence following the meeting which is also attached and will serve as a useful guide for employers facing a variety of hiring options.
Members of the OCCO discussed a variety of bills before the Ohio Legislature which would have an impact on counties and residents including the House Bill 93 which expands Ohio's Safe at Home Program and will have a large role in public records and documentation diligence on the part of the Auditor, Recorder, Treasurer, Engineer, and Clerk of Courts. The Interested Parties are having ongoing conversations to correct several concerns with this new law.
View their PowerPoint Presentation here.
View a Guide for Rehire or Independent Contractor Hire of Retired OPERS Participants.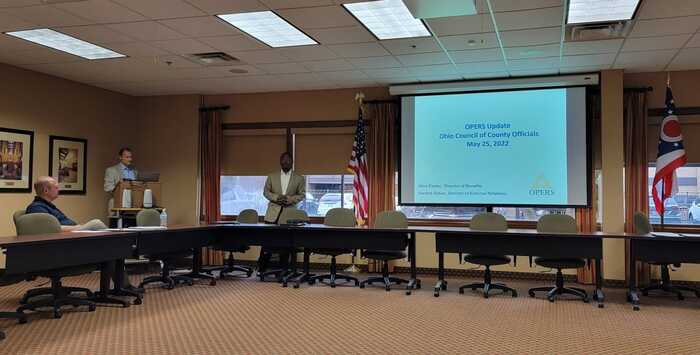 ---