11/03/2022
OCCO November 2nd Meeting Recap
The Wednesday, November 2nd meeting of the OCCO was a busy one for members as the association voted to approve new Leadership for 2023-2024. New officers will be President: Shelby County Clerk of Courts Michele Mumford, Vice President: Hancock County Prosecutor Phil Riegle, and Secretary/Treasurer Montgomery County Coroner Dr. Kent Hershberger. They will be sworn in at the January organizational meeting.
The OCCO also voted to back as a legislative priority in 2023 the full restoration of the Ohio Local Government Fund to 3.68% at the request of the CCAO.
Attendees heard from Director of Ohio Mental Health and Addiction Services Lori Criss who spoke about the agency's work to address the needs of Ohio residents and professionals. She spoke to the county ADAMH Boards and their work at the local level in partnership with the state to meet service opportunities. There is a large amount of information and resources for counties to partner with the OMHAS at https://mha.ohio.gov/ . Thank you Director Criss for speaking to our group!
You can see her presentation here: OMHAS Presentation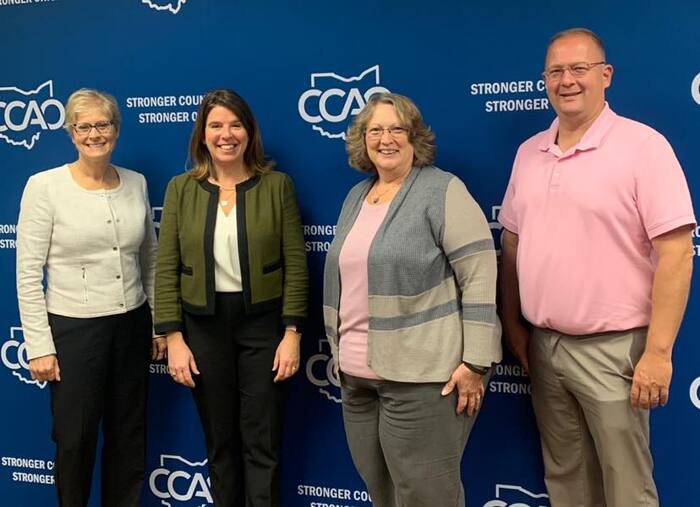 (Pictured is Athens County Auditor OCCO President Jill Thompson, Director of Ohio Mental Health and Addiction Services Lori Criss, Shelby County Clerk of Courts OCCO Vice President Michele Mumford, and Hancock County Prosecutor OCCO Secretary/Treasurer Phil Riegle.)